Durango Mesa Park debuts as Iron Horse Bicycle Classic mountain bike race venue
Durango Mesa Park hosted a memorable Iron Horse Bicycle Classic mountain bike race this past Memorial Day weekend. The event saw 1,317 total racers, including 161 mountain bike and 124 gravel riders, local riders dominating and more excitement from one of the first events to take place in 2021. Hats off to Durango Mesa Park Foundation board member Gaige Sippy and his team for rallying to put on an incredible event and jump start our bike racing and events season. It's good to be back!
"Utilizing Durango Mesa Park for the 49th Iron Horse Bicycle Classic Mountain Bike Race provided the opportunity for a challenging race course, fantastic views from the venue area and provided a glimpse of how future cycling events will soon have their own stadium at the Durango Mesa Bike

Park.  Riders and spectators alike enjoyed the scenery and atmosphere, all within minutes of Downtown Durango." –  Gaige Sippy, Iron Horse Bicycle Classic Director
Read more event coverage in the Durango Herald 
New Mountain Bike Course Tougher at IHBC 
A Good Vibe Returns to Durango with IHBC
A reminder that outside of scheduled and approved events, Durango Mesa Park remains closed to the public. 
Durango Mesa Park Foundation commits to building Colorado's Largest Bike Park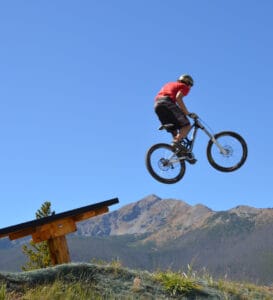 We are pleased to announce the Foundation's $5,000,000 investment to begin the necessary infrastructure work to provide access to Durango Mesa Park, as well as start the design, planning and construction of what we envision will be Colorado's largest, most comprehensive bike park.
Our plan for the Durango Mesa Park bike park includes intentionally built trails and features that are of a state, national and international race caliber to attract new events to the region, and promote regional economic development and an enhanced quality of life for residents and visitors in La Plata County.
Features envisioned for the bike park include: 
Progressive, flow and pump track features

Specific use trails for hiking, running, mountain biking, e-bikes and expanded entry level trails

Colorado High School Cycling League State Championship trail 

Nationally recognized BMX track

Running venue to host regional and national events, training and races

High altitude Olympic-level training facility in preparation for the Los Angeles 2028 Olympic games

Adaptive sports facility and bike features

National and World Cup cycling venue for training and racing

Trails for hosting Union Cycliste Internationale (UCI) sanctioned e-bike racing
While the bike park and trail network are designed for world class and Olympic-level training and competition, there will also be a significant emphasis on beginner and entry-level trails, as well as accessible trails and features for the adaptive sports community.
"This property without a doubt would bring additional local, regional, national and international events to our community. The exposure would also enable Durango to showcase our wonderful community. The potential economic impact would show nothing but upside…. Not often does a community get a gift of land and assistance to help develop a property, especially to a world-class level." – Richard Block in a letter to the editor to the Durango Herald 
Other plans for Durango Mesa Park include a regional venue for hosting music and cultural events, a new and expanded La Plata County Fairgrounds facility, hundreds of acres of open space, disk golf course, dog park and in future phases an outdoor mountain sports complex with multiple sports fields, and more. 
Read more: 
Durango Herald Cycling's Stadium 
Durango Telegraph Ready to Roll  
For now, the property remains closed to the public until proper roads, restrooms and infrastructure can be built to assure the best and most sustainable use of the land.
Progress Made Toward Future Opening of Durango Mesa Park 
June 2021 saw significant progress made toward solidifying the infrastructure needed to eventually open Durango Mesa Park to the public. 
Durango Mesa Park Foundation and the City of Durango closed on the conveyance of 245 acres from the Foundation to the City. The city invested $1.5 million toward 180 acres, and the Foundation donated the remaining 65 acres to the city. This $1.5 million purchase from the city will be reinvested by the Foundation in infrastructure development. You can read more about this crucial step in the

Durango Herald

. 

With a permit from the Colorado Department of Transportation (CDOT), Durango Mesa Park Foundation and its partners La Plata County and City of Durango can begin planning, designing and implementing infrastructure improvements needed to provide future public access to the Mesa. 
While these updates may not seem substantial on the surface, these efforts have been in the works for years. This progress represents a stellar example of innovative public/private partnerships and the initial steps that must be taken to enable Durango Mesa Park Foundation and our partners to open the Mesa to the public. Durango Mesa Park represents generational opportunities for economic prosperity, recreation, cultural heritage celebration and conservation.